Timp de citire
4
minute
Salutare!
Inspirat de ideea lui Ciprian Dragoi de la afiliatti.ro si de nevoia de a ii explica incarcare conversiilor din 2performant in Google Ads automat unui prieten, am decis sa fac public un Tutorial Step by step despre aceasta metoda.
Pe scurt, procesul e in felul urmator:
Un script Google Apps Scripts preia informatiile despre conversii din 2performant prin API
Le copiaza intr-un Google Sheet
Cream un trigger Google Apps Script care sa ruleze script-ul automat zilnic sau dupa preferinta
Cream o actiune de conversie in Google Ads la nivel de Manager daca aveti mai multe conturi sau la nivel de cont singular
Programam incarcarea automata a informatiilor din Google Sheet in Google Ads in functie de preferinte
Toate procesele se intampla la nivel local(Contul de Google) si nu va avea nimeni acces la informatiile voastre despre conversii sau date de logare in afara de Google si 2performant.
La sfarsitul paginii aveti scriptul. Sorry for the mess arround there 🙈 take me there
Enjoy 🤟
1. Copiaza Google Sheet-ul
Copiaza acest GSheet
File -> Make a copy -> Puneti un nume -> Make a copy
Fisierul se va copia in Google Drive-ul vostru impreuna cu script-ul
Dupa ce ati copiat GSheet-ul in GDrive-ul vostru in coloana B4 completati cu username-ul(email) din 2performant si in coloana B5 cu parola de logare din 2performant
In coloana E4 puteti selecta cate comisioane sa extraga script-ul. Acest lucru se intampla in increment-uri de 50, deorece randurile din API 2performant sunt de maxim 50 pe pagina
Script-ul va extrage ultimele comisioane inregistrate
3. Ruleaza si autorizeaza scriptul
 In Google Sheet acceseaza tabul Extensii si apoi pe Apps Script
Se va deschide Google Apps Script
Selectati butonul "Run"
va aparea un form de autorizare
faceti click pe review permissions
va aparea un pop-up
selectati contul dvs. de Google
urmataorea fereastra este ca cea de mai jos, selectati Advanced
Faceti click pe "Go to 2p to gsheet(unsafe)" conform imaginii de mai jos
dupa ce script-ul a rulat, verificati GSheet-ul daca s-a populat cu informatii
E important sa folositi Google Ads linker din 2performant ca parametrul "gclid" sa fie transferat
4. Automatizarea script-ului
din sidebar-ul stang, accesati tab-ul "Triggers"
faceti click pe "create a new trigger"
"Select event source" folositi "Time-driven" (explorati si celalalte variante dupa preferinte)
"Select type of time bassed trigger" folositi "Day Timer"
"Select time of day" ar trebui sa fie o ora anterioara upload-ului din Google Ads care il vom face in pasii urmator
Scriptul va popula automat GSheet-ul in functie criteriile alese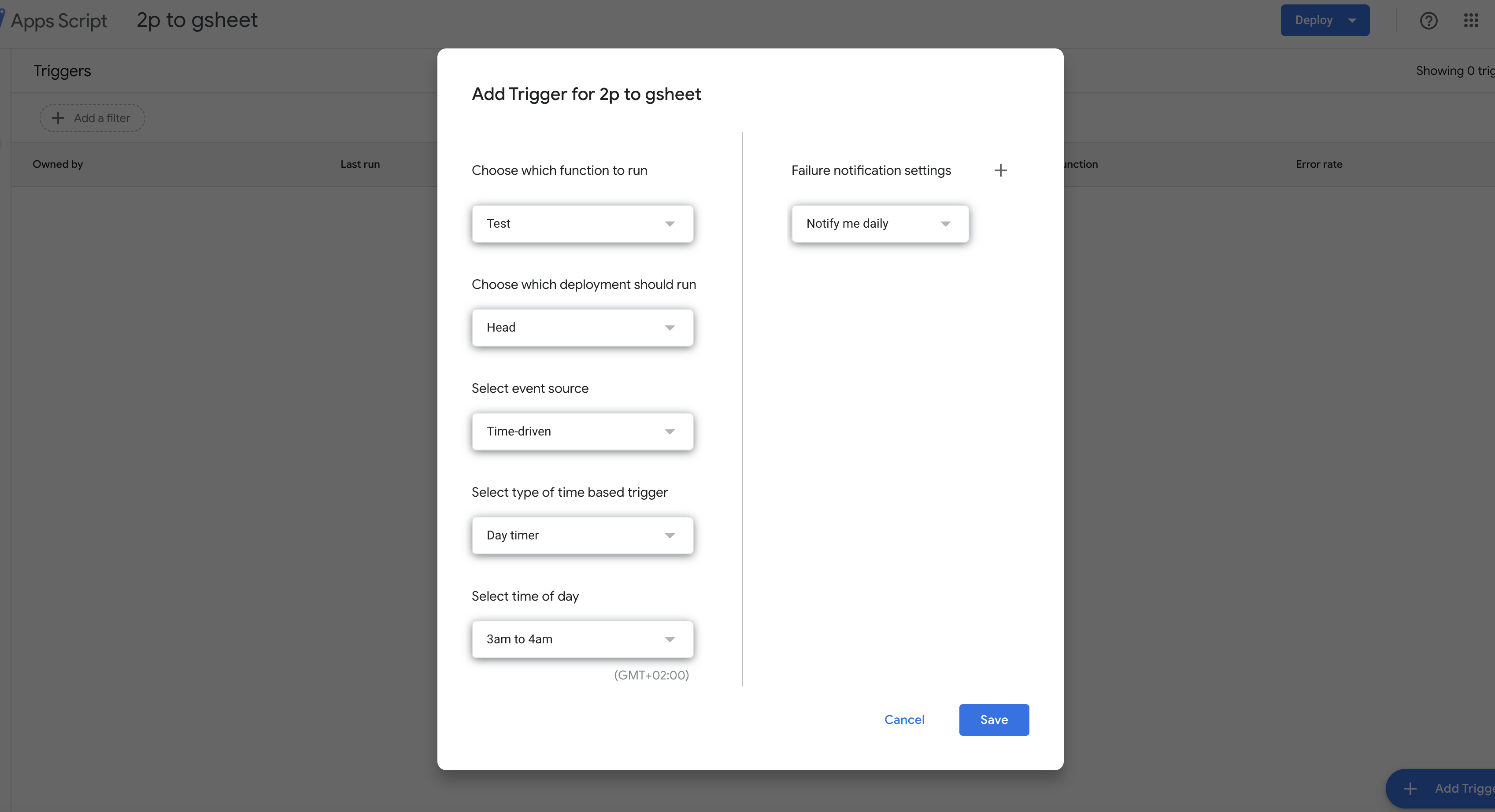 5. Crearea unei actiuni de conversie in Google Ads
In contul Google Ads accesati Tools and Settings -> Conversions
Selectati butonul albastru +New Conversion Action
Selectati Import -> Other data sources or CRMs -> Track conversions from clicks -> Continue
Goal and action optimisation selectati Purchase
Conversion name scrieti Purchase
Value selectati Use different values for each conversion
Selectati butonul albastru Save and continue si apoi Finish
Acesti pasi, pot fi facuti atat la nivel de cont singular cat si la nivel de manager, daca aveti un manager dedicat conturilor din afiliere.
6. Automatizarea incarcarii de conversii in Google Ads
In contul de Google Ads accesati Tools and Settings -> Conversions -> Uploads -> Schedule
Selectati butonul albastru +
Select Source -> Google Sheets
Selectati Link an existing Google Sheet. Se va deschide o fereastra de unde sa selectati Google Sheet-ul unde s-au incarcat conversiile. In cazul nostru daca nu ati schimbat numele fisierului cand l-ati copiat se va numi "2performant->GSheet"
Make sure that you've shared your Google Sheet with 000000000-100000002-account@partnercontent.gserviceaccount.com – copiati adresa de mail care va apare in contul dvs. (adresa de mai sus este de test)
In Google Sheet-ul care s-au incarcat conversiile, in coltul dreapta sus aveti un buton de Share. Adaugati adresa copiata, la lista de persoane care are acces
Frequency selectati Every 24 hours
Time selectati o ora anterioara automatizarii script-ului. In exemplul nostru mai devreme de 3am
Save and Preview
Felicitari!
Conversiile tale se vor incarca automat in Google Ads la fiecare 24 de ore.
Daca ti-a placut, lasa un comentariu sau trimite link-ul cuiva care crezi ca are nevoie de acest tutorial.

				
					function Test() {
var username = SpreadsheetApp.getActiveSheet().getRange('B4').getValue();
var password = SpreadsheetApp.getActiveSheet().getRange('B5').getValue();
var comperday = SpreadsheetApp.getActiveSheet().getRange('E4').getValue();
var pages = comperday/50;
function range(n) { var a = []; while(n) a[n - 1] = n--; return a }
var page = range(pages);

  var myData =
     {
       "user":{"email": username ,"password": password }
     };
  var options =
      {
        "contentType" : "application/json",
        "method" : "post",
        "payload" : JSON.stringify(myData),
        "followRedirects" : false
      };
  
  var login = UrlFetchApp.fetch("https://api.2performant.com/users/sign_in.json" , options);

var headers =login.getAllHeaders();



  
var headers1 = JSON.stringify(headers);
  var headers2 = JSON.parse(headers1);
  var access = headers2['access-token'];
  var client = headers2['client'];
  var uid = headers2['uid'];

  
  
    var opt = {
   
    "method":"get",
      "muteHttpExceptions": false,
      headers: {
"contentType": "application/json",
        "access-token":access,
 

    
      "client":client,
      "uid":uid
      }
  };
  var ss = SpreadsheetApp.getActiveSpreadsheet().getSheetByName("Sheet1");
  

  var lastRow = ss.getMaxRows();
  ss.getRange('A9:E' + lastRow).clearContent();

for (var ii = 0; ii < page.length; ii++) {
  var numb = ii+1;
  var rowsnumb = numb*50;
  var response = UrlFetchApp.fetch("https://api.2performant.com/affiliate/commissions.json?page="+ numb + "&perpage=50",opt );
var data = JSON.parse(response.getContentText());

  
   for (var i = 0; i < data.commissions.length; i++) {
     var num=i+9+rowsnumb-50;
  var ss = SpreadsheetApp.getActiveSpreadsheet().getSheetByName("Sheet1");

    var targetCell = ss.setActiveSelection("A"+num);
    targetCell.setValue(data.commissions[i].stats_tags);
    targetCell.createTextFinder(",").replaceAllWith("");
    var targetCell = ss.setActiveSelection("B"+num);
    targetCell.setValue("Purchase");
    var targetCell = ss.setActiveSelection("C"+num);
    targetCell.setValue(data.commissions[i].created_at);
    var targetCell = ss.setActiveSelection("D"+num);
    targetCell.setValue(data.commissions[i].amount_in_working_currency);
    var targetCell = ss.setActiveSelection("E"+num);
    targetCell.setValue("RON");

    }
}
console.log(page.length)
}